Looking for a great music streaming service? Look no further. Deezer is now one of the largest in the world, available in 182 countries and with more than 53 million tracks.

Deezer has a free version but also a couple of paid subscription options. And with support for all major platforms, it's not difficult to see why it is proving popular.
Pros and Cons of Deezer:
Let's start with the best part of using the Deezer app for streaming music.
Pros: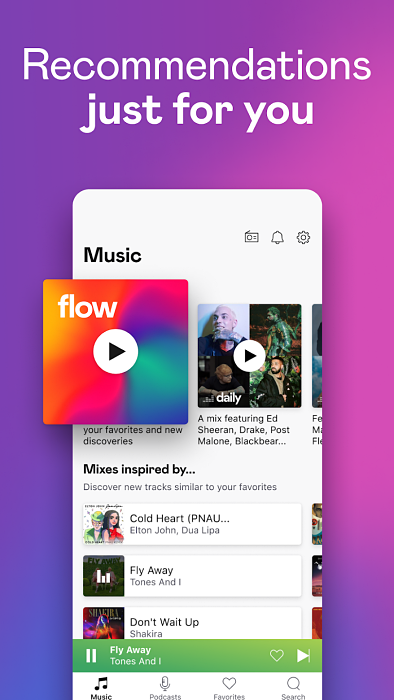 Why would you want to use Deezer Plus?
Supports all major platforms
More than 53 million tracks
Choice of subscriptions
Free version available ( links below )
Import your own MP3 tracks
Plenty of cultural music from every area
Functional online player works on all browsers
Unlimited streaming
Millions of HD tracks
Cons:
But nothing is ever perfect:
Poor streaming quality on the free version
Not all subscriptions are available for all devices/countries
Not easy to search for specific tracks
Not all artists are available
The mobile app isn't as clean and sleek as the web app
Deezer Free Version:
The free version offers you:
Unlimited music – PC/Tablet only
Shuffle mode only on mobile
Preview mode on connected devices
Ad-supported
Access to Flow radio
No offline mode
Track skipping – 6 per hour
Standard audio quality – 128kbps
Deezer Paid Version:
Whereas the paid version offers:
Unlimited music on ALL devices, including connected ones
No ads
Flow radio
Offline mode
Unlimited skips and track queues
Higher quality audio – 320kbps
And all for just $9.99 per month.
Deezer Elite Plus Version:
And, for just $14.99 per month you can get all the premium features, but with the best audio streaming quality of all plans – an impressive 1411kbps.
Google Home Support:
The relationship between Deezer and Google just got better. The Elite or Hi-Fi service is now available on Google Home, allowing you to stream your music FLAC 16-bit quality, use voice commands, and make use of Google Assistant. And support for this has just been released in Australia, US, Italy, and Canada, joining the likes of France, Germany, and the UK.
Final Verdict:
So, which do you choose? Well, that's going to depend entirely on your preferences. If you are not fussed about ads or only want to listen on a web-connected device online, the free version will do just fine. If, however, you want to take a higher quality of music with you wherever you go, you want the premium or elite version.