If you want to create multi-track musical projects, you should consider downloading FL Studio onto your device.

FL Studio is a multi-platform software offering users many features to help them create projects in multiple formats.
What is FL Studio?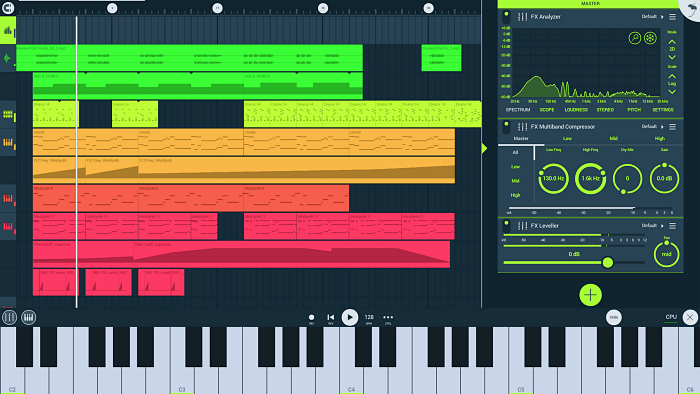 Released by Image-Line in 2011, FL Studio provides users with a complete audio workstation to create multi-track projects that they can export to other audio workstations in MIDI, MP3, and WAV formats. The software allows for projects to be recorded, sequenced, edited, mixed, and rendered on iOS and Android devices and offers loads of features.
FL Studio Features:
FL Studio gives users loads of features to help them create their projects, including:
Track Editor mode with support for 99 layered tracks. Users can add tracks, duplicate or delete them, change instruments, set song tempo and signature, and more.
Piano Roll Editor so users can draw notes manually, drag a rectangle to choose multiple notes, set the note volume, change the length of several notes at once, and duplicate, move, and quantize notes.
Step Sequence for recording one melody or beat measure at a time and transforming it to a loop. Also allows multiple sounds to be created in one track.
Keyboard feature, which can be stacked and resized. Includes label modes, loop and melody recording, support for full-screen mode, and more.
Instruments – 133 sampled instruments included to cover electronic, jazz, classical, rock, and many other styles. Instruments include drum kits and synths
5 real-time effects, including delay, reverb, amp simulator, equalizer, and simulator. A limiter is also included for song volume
Plenty of presets and samples to browse
Full-screen support
Projects can be loaded in the free FL Studio plugin version
Save projects in WAV, AAC, MP3, MIDI, and FLAC formats
Share your projects via the cloud or Wi-Fi
Configurable user interface
Costs $14.99
While the app costs $14.99 to buy, which does include a lot of content, there are also in-app purchases available but you are not obliged to purchase them to build your projects.
How to Download FL Studio:
FL Studio is available on both iOS and Android platforms; click a link and tap the Download button to get it onto your device:
FL Studio is one of the most comprehensive apps, offering users plenty of built-in content and options to create their own musical projects easily. It isn't free but, given what the app offers, it is well worth the price for those users who want to take their musical projects to a new level. Download it on your device and create whatever music you want.