Getting over it is one the most challenging games you will ever play on your mobile device.

Originally a PC game, Getting Over It has now been made available on smartphones and tablets, offering unique gameplay.
What is Getting Over it?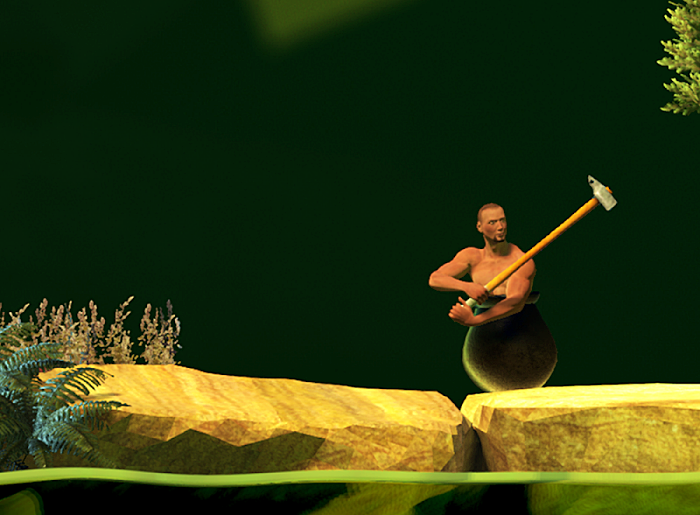 Developed by Bennett Foddy, Getting Over It is a challenging speed-running game that was initially developed for the PC. Now it can be downloaded on iOS and Android devices and provides several hours of entertainment. In the game, you become Diogenes, a man trapped inside a cauldron. The only way you can move is to lift yourself using a Yosemite hammer, and the idea is to make it to the top of the mountain. However, the higher you go, the harder it gets, and your journey is accompanied by commentary from the developer; when your player credit has run out, he will give you quotes related to perseverance and frustration, encouraging you to start over. Your game progress cannot be saved, and as the course gets more demanding, your risk of losing it all increases. The game will only end when you reach the mountain's top and fly up to space.
Getting Over It Features:
This is one of the most unique games you will ever play, not to mention frustrating, and it offers players the following features:
Become a man called Diogenes
Make your way up a massive mountain using only the pot you are trapped in and a hammer.
Listen to the developer's philosophical observations as you climb higher
Play for up to five hours at a time
No way to save your game progress; the risk of losing it all and having to start over is high
Experience frustration but learn to overcome it as you climb to the top
Strive for the Golden Pot – the more you beat the game, the shinier it gets
Challenge yourself to complete it in better times
Costs $4.99 – no in-app purchases
How to Download Getting Over It:
If you are up to the challenge, you can download Getting Over It by clicking one of the links below:
Click on Download/Install and follow the on-screen instructions.
Getting Over It is quite possibly one of the most frustrating and challenging games you will ever play, and losing will only make you want to play it more. It's a great deal of fun, though, so give it a go by downloading it onto your device today. It's not just a game; it's also a great way to relieve stress.