If you loved Hill Climb Racing or you want an entertaining game, try Hill Climb Racing 2.

Hill Climb Racing 2 offers more fun than you've ever had in a mobile game, and it's all yours for free.
What is Hill Climb Racing 2?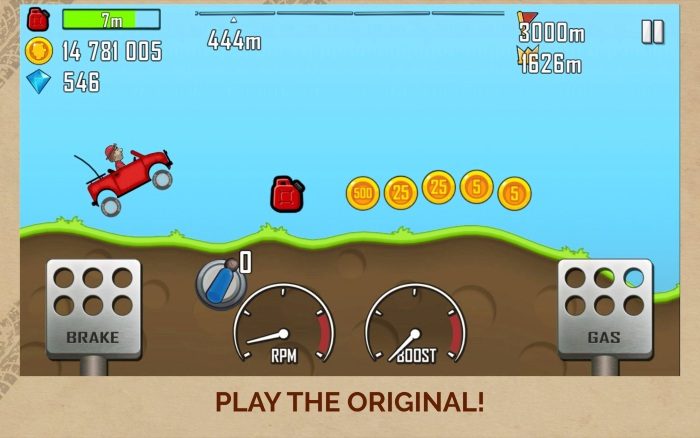 Hill Climb Racing 2 is the sequel to the hugely popular Hill Climb Racing and was released by Fingersoft in 2016. If you played the first game, you'll recognize the main character, Bill Newton, as he challenges everyone to a race uphill. With plenty of cars to choose from, uphill madness ensues as you compete to win and earn bonuses to help you fine-tune your cars and advance up even higher hills. With plenty of vehicles, tracks and customizations to choose from, Hill Climb Racing 2 will keep you entertained for hours.
Hill Climbing Racing 2 Features:
A truly fun game to play, Hill Climb Racing 2 offers all these features and more:
More than 20 vehicles, from cars and trucks to bikes and tanks
Customize your vehicles and character
Get together with your friends and create a racing team
Performs stunt tricks in an Arcade racing environment
Race on dozens of tricks
Weekly events
Win your uphill races to earn bonuses and upgrade your vehicles
All the best bits of Hill Climb Racing made better
Adventure mode returns bigger than ever before with fantastic new tracks
Race in multiplayer races against players from around the world
New vehicle skins and upgrades
Free – in-app purchases are available
In-app purchases can be disabled in your Settings app, which is recommended if others use your device to play Hill Climb Racing 2.
How to Download Hill Climb Racing 2:
Hill Climb Racing 2 is easy to get onto your device; just click the link that relates to your operating system and click on Download or Install:
There's no doubt that Hill Climb Racing 2 is as popular, if not more, than its predecessor. With more than 300 million downloads to date, it is one of the top-grossing apps of its kind, which is no surprise when you consider how much entertainment it offers. If you are looking for a game that helps you pass a happy couple of hours, look no further than Hill Climb Racing 2. It's an addictive game that you'll struggle to put down so download it on your device today and join millions of players worldwide as they compete to climb the highest hills.