Are you up for a swim in the ocean? How do you fancy being a shark on the hunt for food – birds, fish, people, whatever gets in your way? Then you need to step into the Hungry Shark Evolution.

What is Hungry Shark?
Hungry Shark is a cool game where you get to control a shark. Go on a frantic rampage through the ocean and survive for as long as you can – there's plenty to eat; you just have to catch it. Learn tricks along the way, and use boosts to speed up.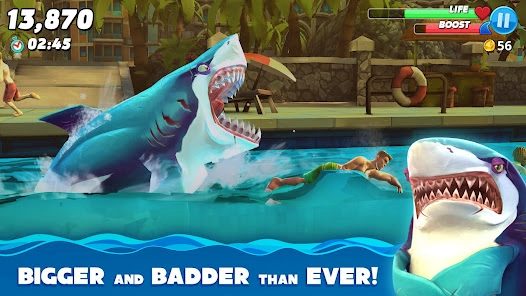 Hungry Shark offers plenty of in-app features to ensure an enjoyable app experience.
How to Download Hungry Shark:
This is easy enough; open the iOS app store and search for it or tap the link below and tap Download on the app page:
This is an action-packed game of non-stop fun. It is addictive, and we guarantee that you won't want to stop once you start playing.
Hungry Shark Game Features:
Explore a gorgeous undersea world
Evolve your shark
Unlock more than 12 different sharks and other sea creatures
Explore above the water too
Recruit Baby Sharks to give you more predatory power
Equip your shark with weapons – jetpacks, top hats, and lasers
Find bonus objects underwater
Hundreds of missions to take part in
Activate the Gold Rush for higher scores
Regular events to win limited edition prizes
Use touch or tilt controls to attack
No need for Wi-Fi – play offline
Sync your game across your iOS devices
Regular updates with new content, features, and challenges
Choice of skins
Compatible with iOS 8 or above on iPhone 5 or higher, iPad Mini 2 and higher, iPad Air, Air 2, iPad 3 or above, iPod 6
Unless you are exceptionally clever and can earn them, there are certain features that require payment via in-app purchases. You don't have to purchase them of course but if you want to take away the temptation, simply disable in-app purchases by going to Settings > Screen Time > Content & Privacy.
It is worth mentioning too, that the game contains ads, but the minute you make one in-app purchase, those ads disappear.
Download Hungry Shark on your device today and follow us on Facebook for more iOS tips and recommendations.