If you love listening to music on the go, you'll love Spotify.

Spotify is one of the world's best-known music and podcast apps, a true pioneer in the mobile music industry.
What is Spotify?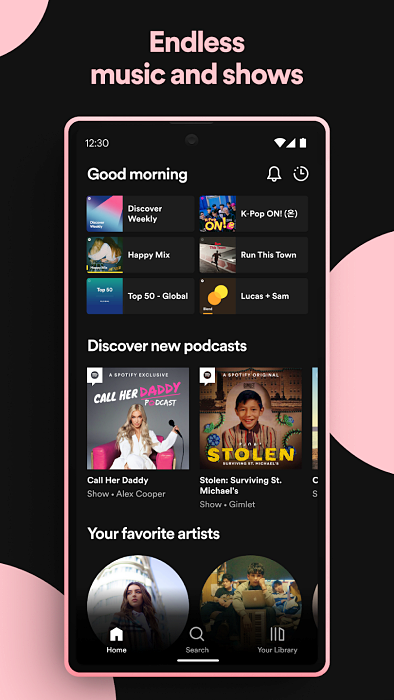 Spotify is undoubtedly one of the biggest success stories in the music world, the largest app of its kind for streaming music, videos, and podcasts. Based in Stockholm, the app brings content from all over the world, offering the ability to download and play music offline. It is free, but there is an affordable premium subscription for those who want to enjoy every feature Spotify offers.
Spotify Features:
Spotify offers two main levels of access: free and premium. The free version offers tons of features:
Millions of podcasts, videos, music tracks, and albums
Find your favorites or try new creators via personalized recommendations
Easy search – simply type part of a lyric
Fantastic sound quality, regardless of device
Create playlists and share them with friends or on social media
Daily music mixes
Choose music from different decades, countries, or genres
Love Netflix shows? Find your favorite tunes
Subscribe to podcasts and bookmark them into a playlist
Sing along using the on-screen lyrics
Popular Radio feature
More than 40 categories to choose from
Sign up with Facebook or an email address
If you choose to go premium, you get to enjoy even more features:
No ads
Download to listen offline whenever you want to – Free is limited to online only which requires an internet connection.
On-demand playback
Better sound quality
Unlimited skips – Free is limited to 6 per hour
Four subscription options
How to Download Spotify:
Downloading and using Spotify is simple. Click on the download buttons below.
Spotify Subscriptions:
Spotify offers four paid subscriptions:
Premium: $9.99 per month
Duo: $12.99
Family: $15.99
Student: $4.99
When you first start using Spotify, it is quite basic and requires you to find your music manually. However, the more you listen, the better it gets, as the app makes personalized recommendations based on the music, videos, and podcasts you listen to – it's a great way to find new artists!
Spotify is a great app for music aficionados and for those who just want to listen to their favorite music. It offers plenty of podcasts on different subjects, millions of tunes, albums, and even videos, pretty much something for everyone. And if you enjoy the free version, sign up for a subscription and enjoy even more.