If you are bored with your usual messaging apps, why not give Telegram a try?

Telegram has overtaken WhatsApp and Facebook Messenger to become the top-ranked messaging app in many countries and is third overall in social networking apps.
What is Telegram?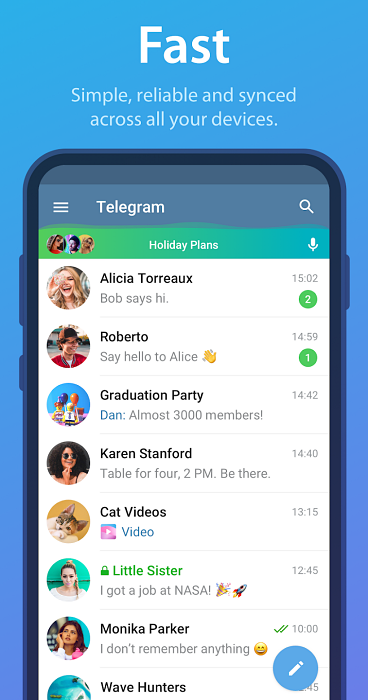 Published by Telegram FZ-LLC in 2013, Telegram is a freemium cloud-based messaging service that works cross-platform. The app offers 'secret chat,' a secure messaging service with end-to-end encryption, and also video calling, file sharing, and VoIP. And it doesn't just work on mobiles; apps are also available for some smart TVs and desktop platforms. The free service now has over half a million active users every month, and a premium subscription has now been introduced for those who want more from their messaging experience.
Telegram Features:
Much of Telegram's status as one of the best messaging apps in the world is down to the features it offers users:
Fast – Telegram is the fast app of its kind, offering instant connection via a network of data centers worldwide
Sync – provided you have Telegram downloaded on all your devices, you can access your messages from any one of them; a standalone app, and your phone doesn't have to be connected to keep in touch. All your data is safe, and you can start a message on one device and finish it on another
Unlimited – send files and media with no limits on size and type. All data is stored in the cloud and available whenever you need it
Secure – everything you do on Telegram is secured using Diffie-Hellman secure key exchange, 2048-bit RSA encryption, and 256-bit symmetric AES encryption
Free and Open Source – developers can make use of a 100% free API to build their own apps
Powerful – create group chats with a maximum of 200,000 members, share any type of document, share large videos, and use bots to do certain tasks
Reliable – uses the minimum amount of data to send your messages and works on weak connections
Fun – includes video and photo editing tools, emoji, animated stickers, themes, and more
Other Features include:
Simple, intuitive app
Your data is kept private and is not accessible by third parties
Secret Chat feature – end-to-end encryption and self-destruction mode
Free to use, premium subscription available
How to Download Telegram:
To download Telegram, tap the link below and tap Install on the app page:
Telegram is undoubtedly one of the best messaging services in the world. It's secure, free, fun to use, and offers tons of features, providing a top-notch experience. Download it today and start talking.