Ignition app offers tons of tweaks, unofficial apps, and game emulators for iPhone and iPad.

You can download the Ignition app on your iPhone without jailbreaking using the links below.
How to Download Ignition App:
Launch your Safari browser ( this is the only one that works )
Tap the Download button above
Tap Install and wait for the app icon to load on your home page
Before you use the Ignition app, open your Settings app and tap on General
Tap Profiles and tap the Ignition app profile
Trust it and close settings. Ignition App is now yours to use
Ignition App Features:
Fast – Ignition App offers fast app resigning, fast app requests, and solves any bugs that arise. The support team ( Twitter ) is spread across the world meaning that no matter what time of day or night it is, every time zone is covered for support.
User-Driven Library – new content is added regularly, and users also have the option of uploading their own apps to the library
Support – customer support is of the highest level and is offered 24/7
Thousands of Apps and Tweaks – Ignition App offers thousands of apps, game emulators, tweaks, and more, with new ones added frequently
Free – Ignition App is free to use, plus you don't need a jailbreak
Troubleshooting Tips:
While Ignition App is relatively stable, some users are reporting common issues. We've looked into these and can tell you that the solutions are simple:
Open iOS Settings and tap on Safari
Tap on the Clear Website Data option
Try using the Ignition app again, and it should be back to normal. If it isn't, just remove the Ignition App and reinstall it.
Profile Installation Failed
This generally happens when the Apple servers are struggling with a high level of traffic. First, leave things be for a few hours and try again. If the error persists, try this:
Place your device into Airplane mode and open Settings
Tap on Safari and tap Clear History and Website Data
Tap on Clear History and Data and close Settings
Disable Airplane mode and leave your device for a minute or two
Install the Ignition App again, and you should find it works just fine
How do you Trust the Ignition App?
This appears when you use Ignition App for the first time, and the developer profile has not been trusted. Here's how to do that:
Take note of the developer name on the error and press Cancel
Open Settings > General > Profiles
Tap the developer name and tap on Trust
Close Settings, try Ignition App again, and it should work
How to Delete Ignition App:
Some errors can only be fixed by deleting the Ignition App and installing it again. You might even decide that Ignition App isn't for you. Either way, deleting the app is simple:
Open Settings and go to General
Tap on Profiles and find the app profile
Tap it and tap on Remove Profile
Tap Remove and come out of settings
Frequently Asked Questions:
Ignition App was first released back in 2017 and is an unofficial app store, packed with third-party apps, tweaks, and more. It supports all devices on iOS 11 or higher and has been updated to support iOS 14 as well. The developers have categorized all the apps and tweaks into options. Check out the infographic below.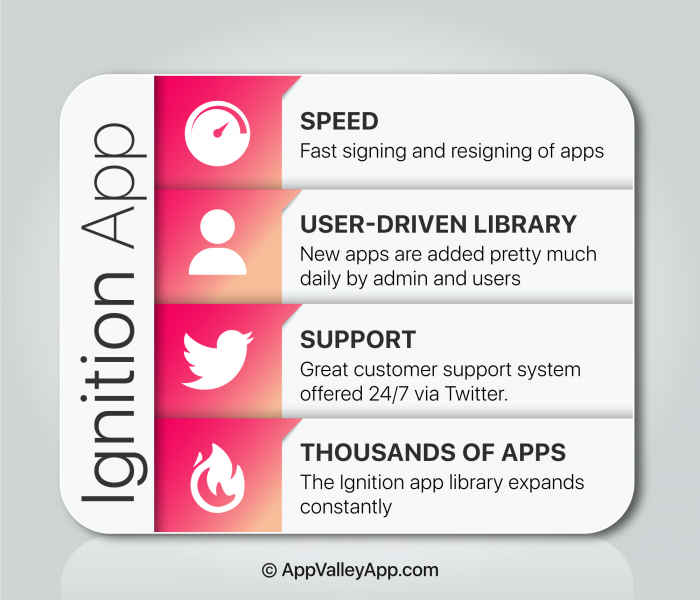 Is the Ignition App Safe?
100% safe. You don't need to install Cydia, so you don't compromise the security on your device, and there is no requirement to use your Apple ID either. The app has been fully screened and does not contain any malware, viruses, spyware, adware, or anything else malicious. It is ad-supported, but these do not get in the way of your apps, and Ignition App will not interfere with any other app or service on your device.
What is the Difference Between the Ignition and AppValley App?
There is very little difference. The developers have collaborated to make sure that you can get pretty much the same service on both apps, so if one doesn't work, the other one will.
Does Ignition App work on iOS 14?
Yes, it is compatible to run on the latest iOS 14 firmware from Apple. The app is regularly being updated to support all the latest iOS firmware releases.
Ignition App is pretty cool, offering tons of unofficial apps and tweaks. Download it today and tell us what you think about it. You can get more cool tips like this by following us on Facebook.
User Ratings: