Ever played Minecraft? If you have, then you will love Terraria and, even if you haven't, you'll still love it. A simple game of survival, Terraria is catching up to Minecraft in popularity.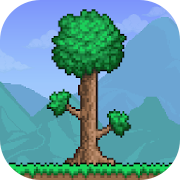 But, You can't get it for Free.
It will cost you $4.99 to download, and there are some other in-app purchases too. More about that later.
For now
Let's dive in
What is Terraria?
A game that was once a Windows-only game, Terraria grew so popular, so quickly, that it didn't take long for the mobile version to follow. It is your classic 2D game of survival, but there's more to it than that. It is a long-term game – you start in a randomly generated world with nothing, and it's down to you what you do. You must build a home, and you must defend it. You can explore and hunt for resources, and you will need to be aware of the monsters that stalk you.
Interested?
Game Features:
Start from nothing and build a home
Get as creative as you like but don't forget to build your defenses
Explore over 20 full-sized and mini biomes, below and above ground
Dig, hunt, mine and more to find useful resources
Craft armor, weapons, and more to protect against and fight the enemy
Face down more than 15 bosses and beat them back
Discover over 3500 different items
Prepare to fight more than 300 enemy types
Loot the enemy for resources
Regular events and challenges
Multiplayer mode supports up to 7 people
Wait, we're not done yet
How to Download Terraria:
Simple – it's an official app, so you get it from the iOS app store. Payment will be made via your iTunes account so just click the link below, click Download on the app page and enjoy:
Easy as that
But there's more
Back to those in-app purchases. You are not obliged to buy them, but it's fair to say that they do provide you with resources that can't be got in any other way. If you really don't want the temptation placed in front of you or other people use your device, you can disable the in-app purchases quite easily – open iOS Settings > Screen Time and go into Content & Privacy.
Your turn
You don't want to miss out on one of the most exciting games ever, so download Terraria today and follow us on Facebook for more iOS app recommendations.
*Found a Broken Link? Report it below.