If you are looking for a fun, competitive game to play, try Coin Master.

Coin Master is free to play and offers hours of entertainment as you attack other players and raid their settlements in a frenzy to build up your Viking Village to be the best.
What is Coin Master?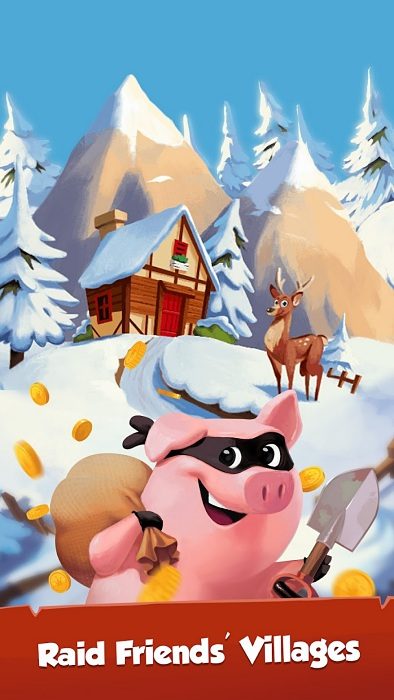 Released by Israeli Moon Active in 2010, it soon shot to the top of the charts and, as of today, it has been downloaded more than 100 million times and has become one of the top-rated social games worldwide. It is free to download and play, although there are in-app purchases – you don't need to make any purchases to enjoy the game. The idea behind the game is that you build a Viking village and lead it in attacks against others, raiding villages for resources and coins to help you improve your own village. You must defend your village against attacks from others, collect rewards along the way, and spin your way to victory using the built-in slot machine. You can also collect themed cards to earn bigger and better rewards and resources and get a pet to help you strengthen and defeat your enemies.
Coin Master Features:
One of the most popular games in its genre, Coin Master provides players with tons of cool features:
Join your friends and other players on Facebook and defeat them to build the best Viking village
Spin the wheel to win loot, weapons, and resources
Attack your fellow players and raid their villages for resources and loot and take revenge on your attackers
Collect card sets to help you move on to another village; the more villages you conquer, the bigger and better your wins will be
Join the online community and trade cards to complete your sets, make new friends, trade your treasures, and get big rewards.
Millions of worldwide players
Free to download and play – in-app purchases are available
How to Download Coin Master:
If you want to join the battle, download Coin Master on your Android or iOS device by clicking the proper link below and tapping on Download/Install:
There's a good reason why Coin Master is one of the top-grossing mobile games of its kind. Not only is it free, it's also fun, offering you a competitive gaming experience and hours of entertainment as you battle your way to the top, becoming the best Viking raider with the best village in the world. Join the fray; download Coin Master on your device today, and pick your battles wisely.