Traffic Rider is the ultimate in endless running games.

This time, you take control of a motorbike and race your way through the streets, dodging obstacles in one of the most detailed gaming experiences.
What is Traffic Rider?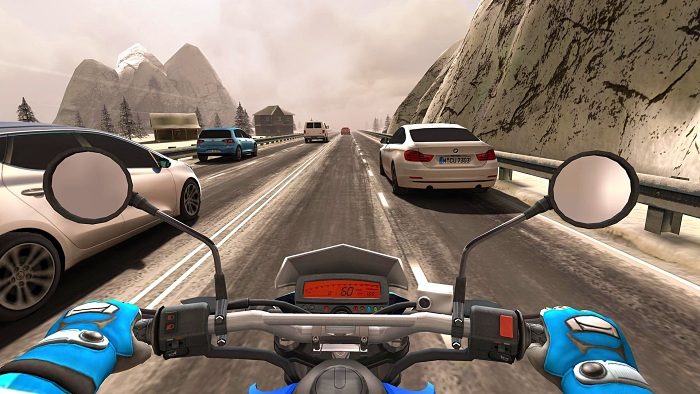 Traffic Rider is brought to us by the creators of Traffic Racer, SKGames, and has already been downloaded more than 500 million times. While it is more detailed, players still get to experience the simplicity and old-school fun of a traditional endless running game. Traffic Rider takes endless running to a new level with career mode, real-life sounds, first-person view, and many more extra features. With plenty of opportunities to upgrade your ride or purchase new bikes, Traffic Rider provides you with a fun gaming experience.
Traffic Rider Features:
Just like any endless running game, Traffic Rider brings plenty of features to make your gaming experience more enjoyable:
First Person camera view
Choose from 34 motorbikes
Game sounds recorded from real motorbikes
Day/night variations in a highly detailed environment
Career Mode, offering more than 90 missions
Leaderboards – race against other players worldwide and earn over 30 achievements
Supports 18 languages
Free to download with in-app purchases optional
No timers or fuel stops needed
In-app purchases are optional and range from $1.99 to $19.99. You can disable these by going into your device settings app and heading to Content & Privacy Restrictions on iOS, or Authentication on Android.
Traffic Rider Playing Tips:
Endless-running games are intuitive and user-friendly, and this one is no different. To get the best from Traffic Rider:
Ride faster to get better scores
Get bonus cash and scores by overtaking cars closely at speeds of more than 100 kph
In two-way mode, drive in the opposite direction to get cash and extra scores
Get cash and more scores when you do wheelies
How to Download Traffic Rider:
Traffic Rider is one of the most exciting games you will ever play on your mobile device, so download it easily today. Simply click a link and tap on Download or Install
Endless running games are entertaining and a great way to while away a few hours, be it to kill time in the evening or make your journey to work pass quickly. Traffic Rider offers users one of the most intuitive experiences, with real motorbike sounds and high-quality graphics providing one of the most fun games you could ever want to play. Play for fun or play to win; the choice is yours, so download Traffic Rider on your device right now and start riding for your life.