YouTube is a household name, the world's number #1 video-sharing website.

Now you can take YouTube with you wherever you go by downloading the official app onto your mobile device. Watch videos on the go and easily share them with your social media sites and friends.
What is YouTube?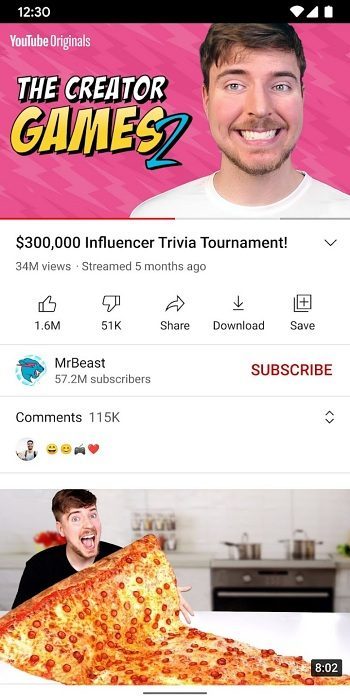 With more than 2 billion users, YouTube is the largest video-sharing network in the world, and it's free. First launched in 2005, Google purchased it in 2006 and turned it from only making money through advertising to offering subscriptions and paid content for those who wanted it. Now people watch, share, like, and comment on videos, subscribe to their favorite channels, and create their own channels worldwide and more than 500 hours of content are uploaded every minute of the day. YouTube is home to billions of hours of content, from short how-to videos to full-length movies and as much music as you could possibly want.
YouTube App Features:
Being the largest video provider in the world means that YouTube offers some of the best features, including:
Watch as much content as you like for free – ad-supported
Subscribe to your favorite channels for free and get their latest videos immediately
Explore popular and trending topics worldwide
Connect with a huge community using posts, Premieres, Stories, and Live Streams
Comment on videos and interact with the creators
Create your own channels and upload content directly from the YouTube app
Family-friendly options at YouTube.com/myfamily, including YouTube Kids and a parent-supervised experience
Subscribe to paid channels to support the creators
Monthly/yearly subscriptions are available to YouTube Premium, YouTube Music, YouTube TV, and YouTube Family
YouTube Premium allows you to watch ad-free, save videos for watching later, and gives you access to YouTube Music Premium.
And there are loads more features to discover as you immerse yourself in a world of videos.
How to Download YouTube:
Downloading YouTube onto your mobile device is easy; simply tap the links below and tap on Download or Install:
If you love watching videos, YouTube is the only app you will ever need. With videos on just about anything you could possibly think of, not to mention TV and Music options, it's your one-stop entertainment shop. You don't have to pay subscriptions to watch; you can watch hundreds of thousands of videos completely free, no matter where you are, so long as you have a working internet connection. Download the YouTube app onto your iOS or Android device now and immerse yourself in a world of entertainment and education.