Are you a fan of The Sims? Rush home from work to play it on your PC? Well, now, you don't have to. The Sims FreePlay is the exact same game but for your mobile device instead.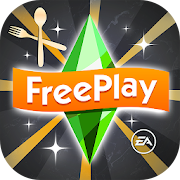 The best bit?
It's free
Let's dive in
Game Features:
This is the game you play on your PC but for your iPhone or iPad instead. You can do everything you can in the PC game – create your characters and live the life you want, and you can do it with all these features:
Start from scratch and create your characters how you want them
Customize everything – your home, business, character, car, whatever you want
Design your dream home and add new rooms as you go along
Design your dream town – shops, restaurants, a beach, anything you want
Play for Lifestyle points and purchase cool new items
Build relationships, get married, have children, visit friends
Raise your family, have pets, throw parties, anything you want to do
Visit the police station, hospital, and movie studio for Sims™ days
Have the career you always wanted and push yourself to get the salary you want
Give your character a hobby or two
Live the life you always dreamed of living
How cool is that!
How to Download The Sims FreePlay:
This is easy enough; just download it from the iOS app store. Tap on the direct link below and tap the Download button when the page opens:
Simple as that
Go ahead
Download The Sims™ FreePlay on your iPhone or iPad today and start living your dreams for free
But
Although it is free to download and you can play for free, you will find in-app purchases for hard-to-get or exclusive items. Not interested? Remove the temptation by disabling them – open iOS settings on your device and tap on Screen Time. Go into Content & Privacy and disable them there.
Don't miss out
You can play The Sims™ FreePlay anywhere you want. Now you don't have to wait until you get home – play on the way to work, on your lunch break, anywhere you want, whenever you want. You don't have to make any purchases; you can have just as much fun playing for free.
Don't forget to tell us what you think of The Sims™ coming to mobile and follow us on Facebook – that way; you'll get more cool recommendations like this one.
*Found a Broken Link? Report it below.