Part of the popular Toca Life series of digital games, Toca Life World is the most popular game yet.

Kids love the Toca Boca games, and Toca Life World offers them even more fun.
What is Toca Life World?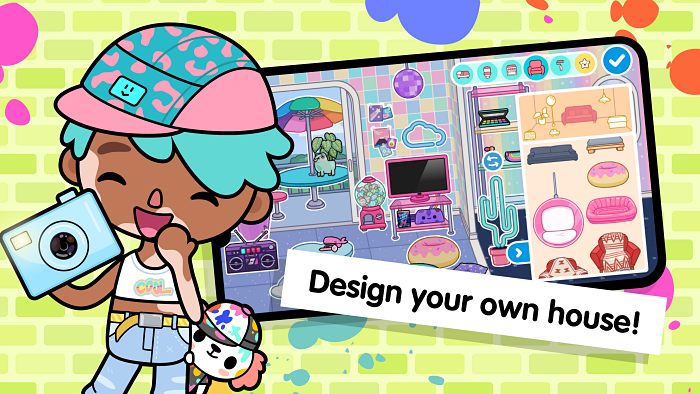 A fun and educational video game, Toca Life World brings all the features of the other Toca Life games into one game. Kids who already play Toca Life City, Toca Life Hospital, Toca Life Vacation, Toca Life Office, and any other game in the series can now enjoy it all in one place, building the story and world they want.
Toca Life World makes the impossible possible, as kids can create their own stories using different characters. In fact, they can do everything they want but can't do in the real world, including taking a lion to the skate park or a horse to school, making new friends, and hanging out with them wherever they want. The only thing that will stop them from doing what they want is their imagination; this game allows it to run riot.
Toca Life World Features:
Toca Life World is packed with features to keep your kids entertained and quiet for hours:
39 characters and 8 locations – free
All Toca Life Apps combined into one
Free gifts every week
Style your characters with a huge choice of props and outfits
Intuitive maps – easily navigate the world districts, visit any building you want, change night to day
Record all your stories using the handy screen recording feature
Start over by using the Reset feature
Save seasonal items in the Storage feature
Get your characters how you want them using the built-in Character Creator
Many more cool features
Toca World Life offers plenty of features for free, but there are in-app purchases. When your kids are using your account to play the game, it is recommended to head into your settings app and disable them or set the app store to ask for your permission before purchases can be made.
How to Download Toca Life World:
Toca Life World is easy to download. Choose one of the links below, tap it, and then tap on Download:
Have your kids enjoyed the Toca Life apps? In that case, they will enjoy Toca Life World, as it brings all their favorite features, locations, and characters into one game, allowing them to enjoy the fun of all their games in one place. Download Toca Life World onto your device today and let your kids learn through play.