iTransmission is a great app that makes downloading torrent files on your iPhone easy.

Disclaimer: Downloading copyrighted content from the web using torrenting is an illegal use of the iTransmission app. Users are advised to use the iTransmission app only for downloading legal and copyright-free content.
How to Download iTransmission on iPhone:
Follow the guide at the link to download TutuApp
Open TutuApp and search for iTransmission
Tap it and follow the on-screen instructions to install it
Enjoy your torrent files on your iPhone or iPad.
How to Install iTransmission with AltStore:
Download iTransmission.ipa to your iPhone
Open AltStore on your iPhone and tap on the My Apps section
Tap on +, top left of the screen
From the list of IPA files, choose and tap on the iTransmission file
If you haven't used AltStore yet, you will need to sign in with your Apple ID
Once the installation starts, wait, and when its done, look on your home screen
The icon will be there, and you can find it in AltStore under My Apps
iTransmission App Features:
Completely free to use
No jailbreak needed
Works on all iOS devices
A simple tap of the + icon lets you add new torrents
Stop/start downloads with one tap
Choose between data and Wi-Fi for downloads
Get info about every torrent – file size, peers, upload speed, data received, and much more
Very user-friendly and easy to navigate
Plenty more features
Frequently Asked Questions:
What is the iTransmission App?
iTransmission is a BitTorrent client for iOS devices, used to access and run .torrent files on your iPhone or iPad. Check out the infographic below.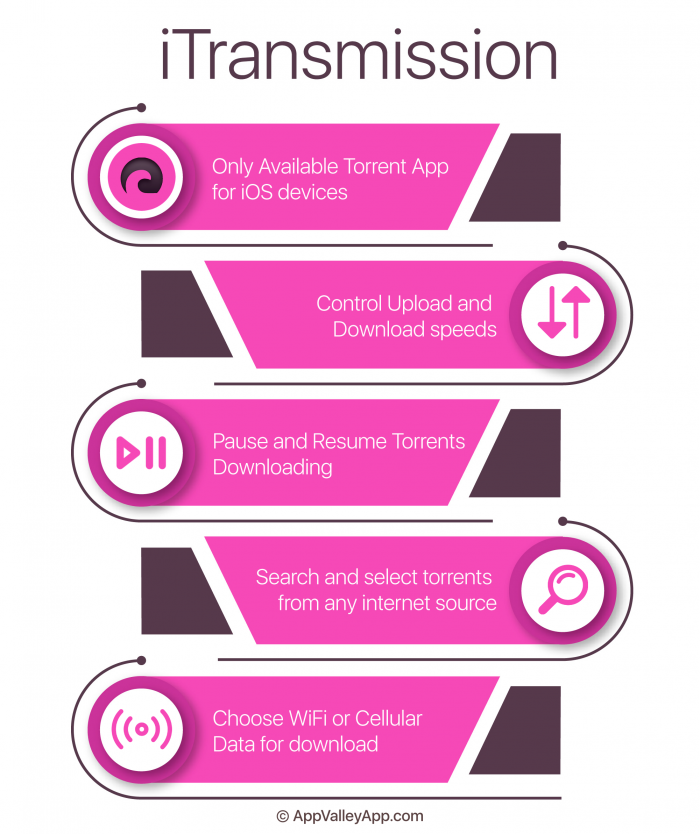 Is it Safe to Use iTransmission?
Yes, so long as you only use the trusted source to download it from. Plus, you do not need to jailbreak your device to use it, adding another layer of safety.
iTransmission Has Stopped Working – Why?
This is most likely because the certificate has been revoked. If the iTransmission icon has turned grey, repeat the installation steps above from Method 1 – Step 3 – this is should reactivate the certificate. If it doesn't work, delete the file and start from scratch and remember to resign the certificate every 7 days.
How to Fix Untrusted Developer Error
If you are unlucky enough to get an Untrusted Developer error when you use iTransmission for the first time, don't worry. It really is very easy to fix, and all you need to do is
Open Settings > General > Profiles.
Find the iTransmission app, tap it, and tap Trust.
Where are Downloaded Files Stored?
iTransmission will save any file you download to var/mobile/Containers/Data/Application/iTransmission(bundle)/Documents/Downloads.
Do I Need a Jailbreak to use the iTransmission app?
No. iTransmission does not require a jailbreak to work; simply choose and sideload your IPA file using the trusted source that we provide you.
Download iTransmission and let us know what you think of it. You can get more app recommendations like this just by following us on Facebook.