AppCake app allows you to download and install IPA files directly to your iOS device without a PC.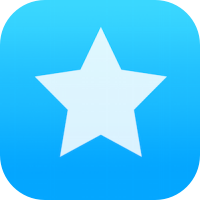 Follow the download links below to install AppCake on your iPhone and iPad without jailbreaking.
How to Install AppCake App:
Using Safari browser, open this page and tap one of the links above
You will be asked for permission to install AppCake; click on Install and type in your passcode ( if required )
When you see the app icon on your home screen, AppCake is installed – tap the icon to open the store.
How to Trust AppCake:
When you do that, you may get an Untrusted Developer error message; this is simple to resolve:
Open your Settings app and go into General.
Tap on Profiles and find the name of the developer
Tap it, Trust it, close Settings
The app is now OK to use.
How to Use AppCake:
Tap the AppCake icon on your home screen
Choose the app or game you want and tap to download it.
If you want to install an external IPA file, use Safari browser to download it from a reputable source
Send it to AppCake, and you will see it in the downloads section.
Tap it, and AppCake will sign it and install it.
AppCake Features:
A large number of unofficial apps and games – all free
Plenty of Ad-Free games
Easy installation with the developer's profile
User-friendly, simple to navigate interface
Choice of using torrents for fast downloads
Much more
How to Delete AppCake from iPhone:
AppCake is pretty simple to delete if you no longer want it, and there are two ways:
Method 1: App Icon
Find and long-tap the app icon.
Tap the "x" in the corner of the icon when it starts wiggling
Tap Delete
Method 2: App Profile
Open Settings > General > Profiles
Find and tap on the AppCake profile.
Tap Delete
Both methods will easily remove the app from your iPhone or iPad.
Frequently Asked Questions:
Here are some of the most common questions asked by users of Appcake Installer.
AppCake is an unofficial app store that offers download and installation of unsigned IPA files. You can also download your own IPA files and install those too. It is one of the best alternatives to the official app store, with thousands of games and apps and all for free. Check out the infographic below.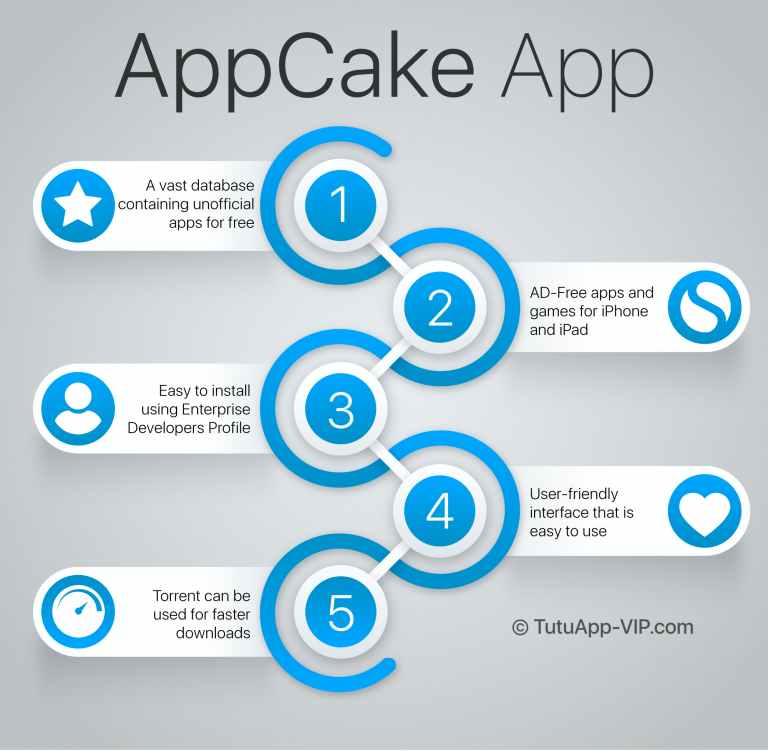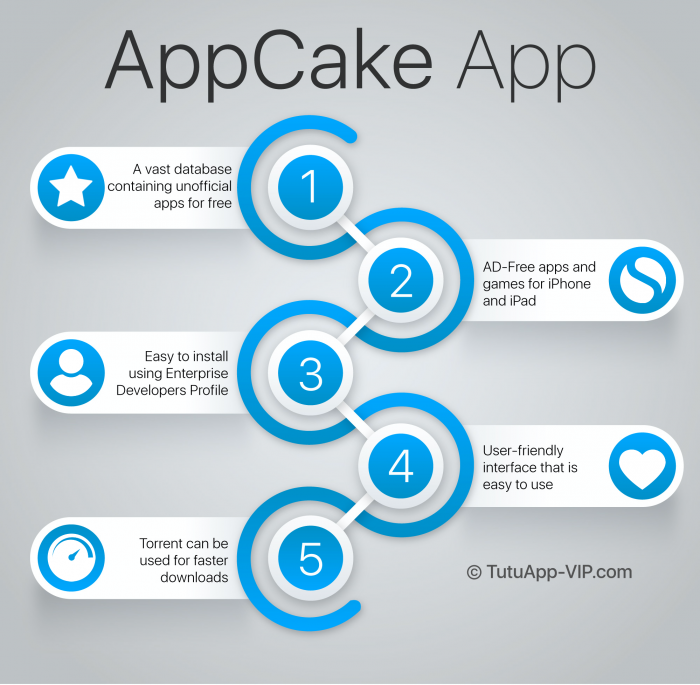 AppCake is completely safe to use. You do not need to jailbreak, and you don't use your Apple ID either, so your usage is safe. And regular updates keep AppCake safe and free from viruses and malware.
Will AppCake Void My Phone's Warranty?
No, for the reason that you are not jailbreaking to install it. Because of that, Apple cannot void your warranty for using it.
Do I Need to Jailbreak to Use AppCake?
No, you do not. Follow the steps above to install the app configuration profile to your device.
Can I Use AppCake on Android?
No. AppCake is an iOS installer, and the developers have, for the time being, opted not to make it available to any other platform. Use the TutuApp for Android.
Will AppCake Work On iOS 14?
Yes, it will work on the latest iOS version. The developers have updated it with full support.
AppCake is a great choice for those who do not want to jailbreak their phones. Try it on your iPhone or iPad today, and tell us what you think of it. Follow us on Facebook for more tips and tricks.
User Ratings: