Happy Chick is a console emulator app with support for more than 18 consoles, including PlayStation, PSP, Nintendo, and many more.

You can download the Happy Chick emulator from the links below.
How to Download Happy Chick on iPhone:
Follow the linked guide to download TutuApp to your iOS device
Open TutuApp, find HappyChick, and download the appropriate version
Enjoy the useful features and all the gameplay you want
Ho

w to Install HappyChick on iPhone using AltStore:
Download the HappyChick IPA file to your iPhone from the links above.
Launch AltStore on your device; when the main screen appears, tap on My Apps
Go to the top-left of the screen and tap the Plus (+) icon
Look down the list of IPA files on your device and select happychick.ipa
Sign into AltStore (using your Apple credentials), and the installation will start
It will take a few minutes, but then the HappyChick icon will appear on your home screen and in My Apps in AltStore
How to Install Happy Chick on Android:
Download HappyChick APK into your device
Launch the device Settings app and enable Third-Party Installations
Install HappyChick, and enjoy your games.
How to Install Happy Chick on a PC:
Download the .exe file for HappyChick onto your Windows PC
Find and double-click the file to start the installation
Click Yes to accept the terms and conditions and wait for the installation to complete – you will see the HappyChick icon on your desktop
To use it, click the icon and choose your console games to play
How to Play Games on HappyChick:
Tap the HappyChick icon on your home page to open it
Set HappyChick up and create an account and then go to the app homepage
Choose the console you want from the website, and you will see all the available games
Choose your game, tap it and tap on the Download button
Most games are downloaded directly from the cloud, but on occasion, you may be asked to look for download links – if you are, click on Search for Download Sources and choose a link to download from
Next, pick a gamepad – either choose Select GAMESIR for a free one or choose Select Other to install a custom one
When the game has installed, it's yours to enjoy
Happy Chick Emulator Features:
Easy download instructions
Simple to use
Free forever
No Jailbreak needed
Works on all iOS devices on iOS 10 and above
Compatible with Android devices, some smart TVs, and TV boxes
More than 18 consoles supported
Play some of the best games ever to be released on console
Games to suit all user types and ages, from the simple and classic Super Mario Bros right up to Call of Duty and other blockbuster games
Games are hosted on cloud servers, so you get safe and fast downloads
Online multiplayer gaming supported
One-Click-Play – you don't need to install different emulators for different consoles, just click and play
Game data is stored in the cloud, so you can sync your devices and play from anywhere
Create game maps and game controls
Local server hosting for some games with support for multiplayer – no need to rely on Wi-Fi
Record your games and share it using Bluetooth or Wi-Fi
Many more features
Frequently Asked Questions:
See below for the answers to some of the most commonly asked questions about HappyChick:
Happy Chick is a console emulator app that runs on Android, iOS, and Windows PC. It has support for multiple consoles like the PPSSPP and Nintendo DS. Rather than having to download several emulators, you can play all your console games in one single app, using Happy Chick. You need to own the ROM's which can then be installed and run on the HappyChick emulator app. Check out the infographic below.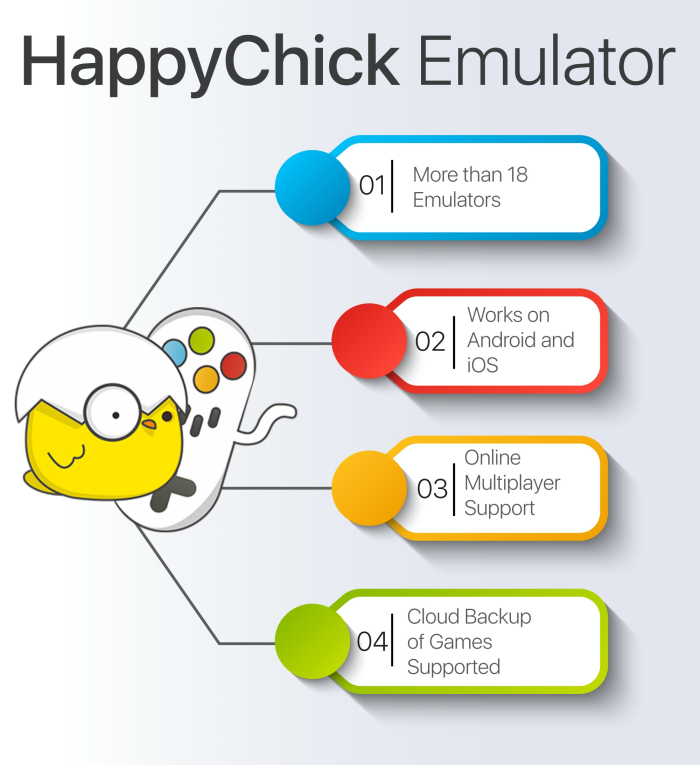 Can I Save Games I Play on HappyChick?
When you play a game, save points are registered. Saving a checkpoint is as simple as pausing the game and clicking Save. Restarting from that point is done by clicking the option to Start from the Saving Point.
Is HappyChick Safe to Use?
The developers of HappyChick are a Chinese company called Xiaoji Studios. You can connect with them on Facebook. They ensure that their app is 100% safe to use; for a start, it needs no special permissions to install, and it does not open your device to external threats.
Yes. It is completely free for Windows, Android, and iOS and does not have any in-app purchases either. The Happy Chick app is entirely free to download and use.